AHHHHHHHHHHHHHHHH EVERYBODY GO AND BUY THIS BOOK RIGHT NOW. GO READ IT. For more information on why, I suggest you keep reading.
Lady Helen and the Dark Days Club is by an amazing Aussie author, Alison Goodman. You might know her as the author of Eon (an equally amazing novel. Go read that one too). But, that isn't the book we're reviewing here, so let's move on. Lady Helen and the Dark Days Club is set in London, in the Regency era where a woman's only purpose is to find a worthy gentleman with money, and start a family. But this isn't the case for Lady Helen. After all, we are reading a Young Adult novel, so of course, things for the protagonist won't be that easy. Instead of simply focusing on finding a husband and getting out of her uncle's hair, Lady Helen finds out about her true identity – which is to become a Reclaimer and fight the bad guys, Deceivers (evil monsters with tentacles. Yes, you read that correctly. Tentacles.)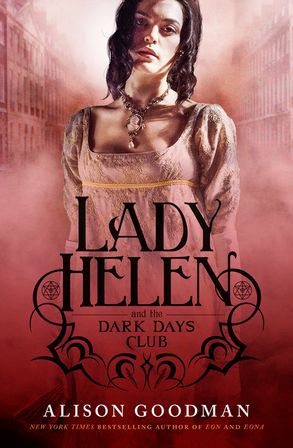 Now that you have a short explanation on what the book is about, let's get into what I loved about this book!
I LOVED the characters. The characters each have their own complicated backgrounds, and own personalities, and you're always left wanting to know more and more about them. There's the typical love triangle and it's really hard to choose who you love more. And everything about them is just lovable and charming. Can I please have a Lord Carlston or a Duke of Selburn for myself pleasey??
Lady Helen is witty and headstrong, always knowing what she wants. She's your typical YA type of heroine, but in a world where women are usually more compliant to men, it's interesting to read. For me, this made me love her more, because while she was wanting to impress her aunt and uncle and find a man to marry, she was also torn with her destiny to kill monsters and make the world a better place. Can you see why this book is amazing now?
The world is so beautifully written. It's so there that you can see it forming in your head with ease because Alison Goodman has done so much research to make this book feel more real. I loved reading the Author's Note at the end and finding out about all of her research, and who was based off whom, and what was actually real, etc. It was all very fascinating. If somebody invented a time machine, the Victorian era of London is definitely a world I would love to visit.
With the large amount of description of the world, the book has a slow start before anything exciting really starts to happen. We're first greeted into the world by Lady Helen's daily routine and life, and how she's preparing to step into polite Regency society and look for a suitable husband. For me, I actually found this rather endearing (see above paragraph for why), but for some people, I can see that this could be a problem because it takes so long to get into the action. If that happens for you, don't be fooled. It gets better, I promise! 
I had been prepared for a book with tentacles. Yes, this is an accurate description of what I had heard from friends before I actually started reading it. And in my head, I had the image of demons that looked like octopuses.  And by that, I mean, non-human looking, ugly creatures that slime everywhere, and are just generally gross. I'm not sure whether to be disappointed or relieved about the lack of octopus, slimy demons, because that is definitely not what the 'Deceivers' (the bad guys) are. Then again, the 'Deceivers' are pretty gross… They don't have to slime to be gross.
What I don't like about the book?
I don't have the second, and I need to read the second straight away. And then I'm going to have to wait like everyone else for the third! I'm going to die.
But seriously, there is nothing that I disliked or hated about the novel. I couldn't, and still can't, get enough of it. Bring on the Dark Days Pact!
I rate Lady Helen and the Dark Days Club by Alison Goodman 5 out of 5 stars.
Let me know in the comments what you thought about Lady Helen and whether you're a Duke or Lord supporter? Don't hate me, I'm a Duke supporter. (Yes, I know. He's boring. But also kind of… sweet.)